Approaching Challenges to Assisted Living
Assisted living facilities face new challenges as communities change, technologies develop, and senior living faces a staffing crisis. The Distinctive Living approach ensures we overcome new challenges by developing a stellar reputation and a supportive community.
Here are 10 challenges facing assisted living facilities and how our approach can help every community reach their full potential.
1. Securing Data
Healthcare facilities, including senior living, are a primary target for hackers. The importance of cybersecurity only continues to grow. The standards for what is considered the best protection change every day, so managing and updating data security should always be a top priority for assisted living facilities.
2. Reputation & Brand
A facility's reputation is essential for a thriving community. Branding can attract staff and residents. When people are impressed by your reputation, they want to stay and invest in the community.
Distinctive Living has more than 70 years of combined experience in the senior living industry. We owe our reputation to team members providing outstanding care, programming, strategy, and amenities.
3. Hiring the Right People
It's the people that make the place a home. Hiring the right people for the right positions can be the "secret sauce" of developing a remarkable reputation. It's also the difference between a temporary workforce and staff retention. The right team can work together to overcome challenges and champion the success of their community.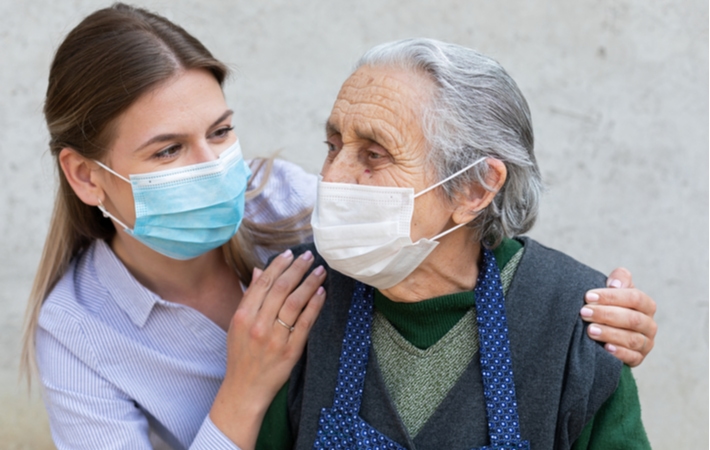 4. Staffing Crisis
According to a survey by the American Health Care Association and National Center for Assisted Living (AHCA/NCAL):
71% of the workforce lacks interest or qualifications
34% of facilities lack funds to offer a competitive wage
28% of facilities limited admissions due to limited staff
Residential care facilities lost 400,000 employees between February 2020 and March 2022, with no indication that the drop will stop. Attracting caregivers and skilled employees is multifaceted, but investing in training initiatives and offering comparable pay to other health care settings are crucial for reaching a solution.
5. Back Office vs. Frontline Staff
Hiring the right people also means hiring for the right positions. The back-office staff can be as essential as the caregivers and staff interacting with residents on a daily basis. Ensuring the programming and business side of the facility runs smoothly and confidently has a ripple effect. It supports resident care and the facility's reputation.
6. Baby Boomer Expansion
By 2030, the entire baby boomer generation (born between 1946 to 1964) will be over 65. The demographic includes more than 73 million people, with many potential residents for senior living homes.
Assisted living facilities must determine when it's the right time to expand to accommodate admissions. Expansion requires a balance, as the facilities need space, staff, and funding to ensure successful growth. With the continuing staffing crisis, strategic planning can make a difference in the quality of care available and the ability to maintain a facility's expansion.
7. Memory Support
Dementia and Alzheimer's disease can significantly impact cognitive function and memory. As a result, there's a growing demand for facilities to provide memory support.
Distinctive Living created our Moment's Matter program to create top-of-the-line, individualized care for residents. We provide team members with training and tools for expert-level care. Helping patients feel safe, secure, and respected allows a community's reputation to stand out.
8. COVID-19
COVID-19 was a challenge for many aspects of the global community. It led many assisted living facilities to reevaluate regulations surrounding safety and care. Continuing measures and monitoring overall community health are crucial in protecting residents, staff, and a community's future.
9. Keeping Up with Technology
Although data security and electronic records are critical aspects of technology, senior living facilities need to embrace innovative technology. Up-to-date technology isn't a bonus; it's an expectation.
Nearly 80% of senior living providers increased smart technology investment after the 2020 pandemic. Smart devices reduce operation costs, improve physical security, optimize staffing, and provide residents with more opportunities for connection.
10. Exceeding Regulations
Assisted living facilities must abide by state and federal regulations, but a thriving facility exceeds expectations. Promoting a facility's reputation and success requires strategies to keep up with the financial and healthcare demands of regulations and community standards. At Distinctive Living, we're dedicated to providing a high quality of life to exceed expectations.
Our Approach to Challenges
Distinctive Living has been in the senior housing business for over 20 years. We've overcome plenty of challenges during those years. Whether you want to incorporate our expertise into your brand or have questions about Distinctive Living communities, we would love to hear from you. Contact us today!