Most seniors want to feel resourceful, safe, and independent. And everyone wants to live a comfortable, dignified life. Innovative products can offer solutions to help people achieve these goals.
Americans are aging, with the number of citizens 65 and over expected to double within the next 40 years. New technologies are being introduced every day to allow seniors to live a more fulfilling life with ease, both in senior living communities and in their own homes.
We've listed some products, technologies, and apps of note that may help older adults and their caregivers go about their day-to-day lives while removing barriers.
Personal Care
If certain activities of daily living become challenging, it can make day-to-day living feel like an uphill battle. With personal care products designed to make tasks more accessible, you can stop sweating the smaller care job and focus on living a life you enjoy.
Lotion Applicator
Dry skin can be an irritating ailment that results in discomfort, itchiness, and self-consciousness. Even with high-quality lotions and creams, it can be difficult to get relief in hard-to-reach areas. Factor in limited mobility and lotioning certain parts of the body can feel impossible.
The long-handled lotion applicator from Vive Health offers a simple solution. A dense foam applicator pad is used to rub lotion on those places that are challenging to reach, like the center of the back. The long handle is easy to use and extends reach, and the applicator can be switched out easily.
Automatic Can Opener
Cooking at home can become more challenging as we age. Mobility challenges can make regular trips to the grocery store for fresh food a challenge (more on navigating that below). This can mean relying on shelf-stable canned food to keep up a balanced diet.
However, any problems that affect the hands, such as arthritis, may make opening cans a painful task. Automatic can openers like this one from Hamilton Beach allow you to continue cooking comfortably in your own home.
Button Hook
If fine motor skills have become difficult, the buttons on clothing may prove too challenging. A button hook can help keep dressing accessible, meaning your favorite outfits can come back into rotation.
The model V button hook from Vive Health has an ergonomic handle and flexible loop that allow you to maneuver buttons through their buttonholes with ease. It's strong enough to be used on denim jeans and delicate enough to handle small buttons with narrow holes. The tool can be used one-handed and even has a zipper pull attached to the end.
Grabber Tools
If muscle weakness or mobility challenges are part of your daily life, you may need assistance fetching things on high shelves or out of reach. The Carex Ultra Grabber
Grocery Delivery Apps
If getting around has become too much of an ordeal to make regular grocery shopping trips accessible, grocery delivery apps such as Instacart can bring your groceries to you! You remain in control of what you buy and when, so you can continue cooking and eating all your favorite foods without worry.
Technology
Advances in technology are allowing us to live longer, more comfortable lives. Explore some of our top tech options for senior care.
Google's Nest Doorbell
The Nest doorbell from Google is an innovative system that can provide security and peace of mind to seniors who live on their own. Nest is equipped with a high-definition camera with clear night vision, a 160° view, and even facial recognition of familiar visitors. It removes the risk of opening the door to unwanted guests (be it for security or personal reasons).
Smart Speakers
Smart speakers are an easy-to-use technology that allows the convenience of a hands-free, voice-activated virtual assistant in your home. Set reminders, receive alerts, listen to music, call friends and family, check the weather—all with a verbal prompt.
The Amazon Echo Dot is relatively affordable with a small, sleek design. It's user-friendly, with a fast setup that doesn't require specialized knowledge or lots of time. Seniors may enjoy the quick connection to friends, their favorite media, and their schedule or planner.
Lifepod
Lifepod can be used to expand the functionality of the smart speakers mentioned above. It turns your home assistant into a 2-way voice service. This offers seniors social connections and the ability to get in touch with caregivers who aren't present quickly. Set up audible reminders, personalized routines, and text alerts.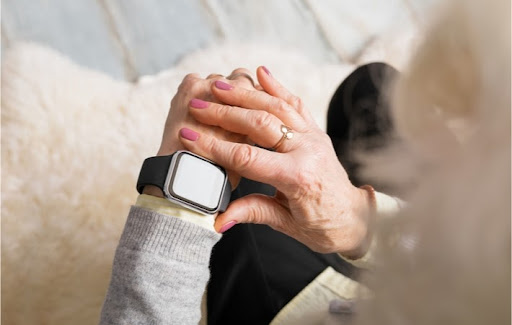 Health
Health-promoting devices allow seniors to stay active longer and manage their healthcare needs with ease.
Pill Dispenser
Keeping track of multiple medications can be a challenging puzzle that takes plenty of mental effort. With sophisticated pill dispensers, the management is done for you.
Hero Health's automatic pill dispenser can help organize a medication regimen, no matter how complex. It offers visual and audible reminders to take medication to prevent doses from slipping through the cracks. Hero Health is connected to an app that keeps track of your medication management in one convenient place, and offers 24/7 support. The device can be accessed and programmed by the user, or remotely by a caregiver.
Smart Walking Aid
Mobility problems challenge many seniors, and roughly 8.5 million adults 65 years or older regularly use a mobility aid. Motum's smart cane (formerly the isoWalk) uses sensors to collect data regarding fall risks, which is used to help warn of hazards and track activity levels. The cane also houses an emergency help button equipped with 2-way voice technology and connected to a professional help center.
Medical Alert Smartwatch
Not all medical alert devices are created equal. Some older adults may feel too conspicuous wearing a traditional lanyard-style medical alert system. This could lead to them neglecting to put it on, which negates the point of having the device on your person.
Enter VitalBand. VitalBand looks just like a smartwatch, but it comes equipped with emergency voice call out, automatic fall detection, and on-wrist charging capabilities. You can even choose to alert specific family members of an issue via email or text instead of contacting emergency services immediately.
For Caregivers
If a loved one is still living in their home until they've found the perfect senior living community, some caregiving responsibilities may fall to family members or friends. There are products and technologies available to help keep senior caregivers on track with all their loved one's needs.
Evermind
The Evermind device helps keep seniors safe in their homes. It plugs in to commonly used appliances and connects to an app wirelessly to give insight into your senior's day-to-day activities.
Evermind tracks when home devices are turned on and off and sends data wirelessly to an app. This makes it easy for caregivers who cannot be present to know if their loved one is safely going about their day and alerts them of potential hazards, like a stove left on. This offers peace of mind without intrusive sound or video monitoring.
Insight Timer
Caregiver burnout is a real problem, especially among family members who care for their loved ones in addition to their careers. Insight Timer is a free app that focuses on mental wellness through meditation, mindfulness, and sleep. It offers live events and pre-recorded meditations and affirmations. Caregivers and seniors alike can benefit from this app to manage their mental health.
CaringBridge
CaringBridge helps multiple caregivers stay connected easily and efficiently. This private platform works by allowing "co-authors" to manage a site related to the person receiving care. It's a secure way to keep information, journals, and updates all in one place. You can organize visits and meal trains, and keep track of care tasks in a planner. CaringBridge is a non-profit organization that offers families easy ways to manage their loved one's care.