If you are recently retired or are the caregiver for an aging parent, you may have considered a transition into senior living. But, how do you know which community is the right fit for your loved one, and what kind of supports are in place to keep them safe and happy?
Moving into a retirement community takes careful planning, and research. There are numerous factors to consider, including state and federal regulations, and your loved one's personal wellbeing.
Depending on the level of care required, potential residents could choose to live in an assisted living, independent living, or memory support community. These levels of care all have different regulations to keep residents well cared for and secure.
When choosing a retirement community, it's crucial to consider all the factors; this includes vital research into each facility's regulations, their compliance, and the community members' overall quality of life.
At Distinctive Living, we understand the importance of your family member's transition into senior living. We want to ensure that every potential resident has access to vital information about the regulations governing each level of care, and the agencies proposing these regulations.
Independent Living Regulations
Independent living is an excellent choice for seniors with little-no-care requirements who want to live in a community surrounded by individuals at the same life stage.
The state regulates independent living facilities, and typically regulations are concerned mainly with nursing and food services. Regulation levels and procedures vary by state, and each community must have the appropriate state licenses to operate legally.
There are currently no national regulations surrounding senior independent living, but some independent living communities provide medical care, which can lead to more state regulations.
If you're a retiree considering a transition into independent living, it can be beneficial to research the facility online. You may find report cards and reviews written by current and past residents, and details about the standards of your potential facility.
Assisted Living Regulations
Assisted living is designed for older adults needing more support in their day-to-day lives. Licensed nurses and certified nursing aides provide residents with 24/7 support and care. Residents of assisted living often require help with the activities of daily living (ADLs), like:
Dressing
Bathing
Hygiene
Cooking
Housekeeping
Health and wellness
Mobility
Like independent living communities, individual states regulate assisted living facilities. Assisted living communities typically provide accommodations, personalized assistance with ADLs, and some health care services.
In most states, the health department or social services set and monitor regulations for assisted living. Some assisted living facilities are Medicaid certified, and are regulated and rated by the Centers for Medicare & Medicaid Services (CMS), a federal agency that generally monitors nursing homes and skilled nursing centers.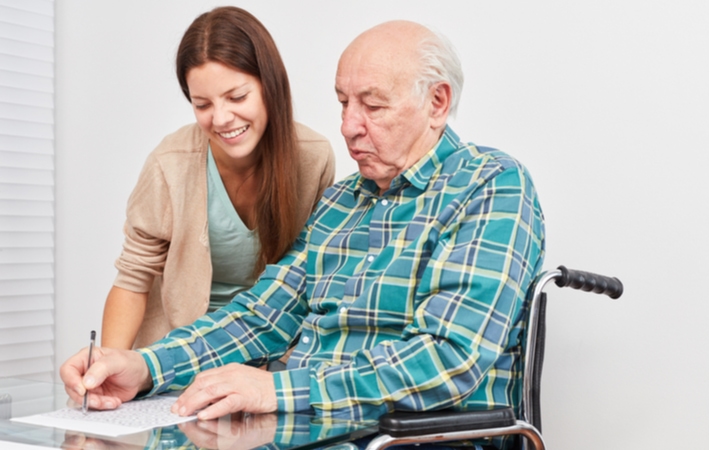 Memory Support Regulations
Memory support neighborhoods provide accommodations and 24-hour personalized care for individuals with memory loss, additional cognitive support and health care are offered by professionals specially trained in memory care.
Memory care neighborhoods typically receive federal funding, and are regulated by the federal government. There are also specialized state-wide requirements for senior living communities that provide memory care to residents with Alzheimer's disease or dementia.
Regulations include special requirements for living units, staff-to-resident ratios, methods for behavior management, and training.
Memory support neighborhoods must provide specialized paperwork when applying for a facility license, and prove they fulfill all regulations and requirements.
How Are Regulations Enforced?
State and federal government agencies generally use scheduled and unannounced inspections to determine if a facility is following regulations.
Senior living facilities must demonstrate their ability to follow the rules, procedures, and protocols. Violations can result in monetary fines or severe penalties.
Regulations can vary state by state, so it's imperative to research your state's rules to determine if a senior living community meets requirements before deciding.
Some states will publish a facility's licensing and audit history. This information may help you decide a community's ability to provide top-quality service and care for you or your loved one.
Attainable High-Quality Care
Searching for a retirement community can be a heartwrenching and complicated experience.
Knowing regulations exist provides comfort to caregivers and family members. You'll feel much better knowing your elderly loved ones receive the highest-quality care available in a facility that suits their needs!
It's vital to note that senior living communities are often audited to confirm they meet state requirements, and residents typically receive all the necessary care to ensure a high quality of life.
Management at a senior living community is dutybound to protect residents. They must record, report, and resolve any instances of harm. If you suspect your loved one is being neglected or abused by their facility, we recommend contacting the community's staff or the authorities. If you have additional questions about senior living regulations, contact our experienced team at Distinctive Living. We're dedicated to providing safe communities for seniors, and would love to hear from you.