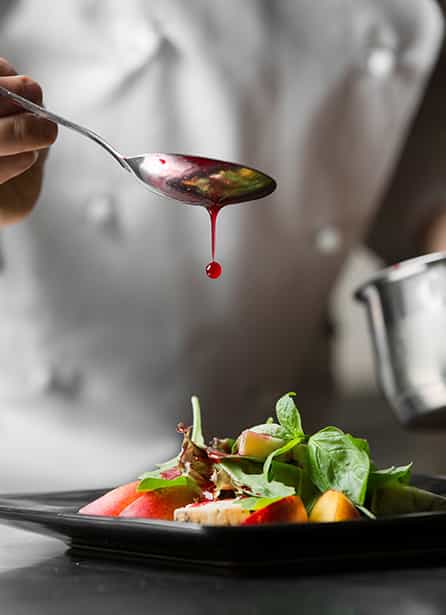 A Distinctive Palate
Dining at Distinctive Living boasts world-class culinary chefs and engages registered dieticians to provide our residents with the ultimate gourmet dining experience.
Your community can revolutionize its brand and transform its dining experience from a traditional service model to pure indulgence, or enhance an already established culinary program. A palatial dining experience is the next big trend in senior living and is sure to make every resident relish your brand. The Distinctive Living Difference
Distinctive Living Dining Features
Private dining rooms

Community kitchens

Open kitchen concept

All day restaurant dining options

Social atmosphere

Attentive and trained front of the house staff

Personalized meals
Professional Culinary Staff
From world-class culinary chefs to attentive, personable servers, the Distinctive Living Dining Program ensures that your residents receive an enjoyable restaurant-level experience. The Distinctive Living Dining team is trained to answer questions, provide recommendations, and deliver a customer-driven personalized dining experience.
Registered Dietician Approved Meals
To ensure the complete wellness of every resident, we strive to provide delicious ways for residents to meet their healthy eating goals. Registered dieticians work with our residents to ensure that their nutritional needs are satisfied daily in a way that suits their requirements.
Memory Support Dining
In partnership with our Moments Matter™ program, we offer a wide variety of dementia-friendly menu options that help to prevent and decrease some of the adverse effects associated with dementia, such as weight loss and loss of appetite. Implementing this program will ensure that your memory support residents receive the proper care they need to remain healthy.

What Can Distinctive Living Do For You?