As our residents become more diversified, tech-savvy, and interested in experiences with their lifestyles, it's becoming an exciting time to be part of this flourishing industry.
Sometimes, though, it can be hard to see the forest for the trees when we're caring for our communities, so we want to take a little time today to look at what senior living communities can expect going into 2023.
Since we looked at the trends affecting regulations in 2022, a few remain the same, but a couple more changes are expected to pop up as we move into the new year and beyond. Today, we'll highlight some important trends in your communities so you can adjust your regulations accordingly.
If you're wondering how you can help your community make the most of these changes and trends, please speak to one of our Distinctive Living advisors today.
What's Carrying Over from 2022
Health & Safety Regulations
Unfortunately, we still need to get out of the woods regarding COVID-19. While new cases have reportedly evened out in the remaining months of 2022, it's important to note that the new cases reached its zenith only at the beginning of the year.
Because of this, it's still essential for communities to maintain strict health measures when working with residents. This includes comprehensive hygiene practices, appropriate PPE for staff members, and enacting social distancing whenever necessary.
On top of this, senior living communities need emergency response systems in case of climate crises. Temperatures in the United States are climbing on average, meaning we'll likely experience recurring phenomena like heat waves and extreme storms over the coming years.
In fact, in 2018, climate disasters resulted in over $150 million USD of economic damage. And many scientists believe this is only the tip of the iceberg.
Highly Trained Staff
Speaking of senior living communities, it's becoming increasingly important for communities to attract and retain high-quality staff members. Over 400,000 caregivers left the industry in 2020, but U.S. Bureau of Labor Statistics projects that the industry could add 924,000 new workers by 2031—which is considered a "much faster" growth rate than average.
As seniors and adult children start exploring senior living communities, a common concern will be about the quality of care communities provide, especially for unique needs.
It's our responsibility to bring talent to our teams and provide comprehensive training programs to help address the lifestyle needs of residents in assisted living and memory support lifestyles.
Meeting State Requirements
As a community manager, you'll always need to keep up with your respective state's licensing and regulation requirements.
Though the National Center for Assisted Living has compiled a list of PDFs regarding current senior living laws and regulations, it's essential to keep an eye on any potential changes that may affect your community in the future.
What's Different?
Providing a "Fountain of Youth"
Studies show that seniors are living longer than ever. And in some cases, they may remain active longer, meaning they will likely look for senior communities that offer lifestyles with more "active experiences."
However, this doesn't mean that communities should shift their focus to catering only to active adults—it means communities should prepare to accept seniors looking for opportunities to age in place. Going into the new year and beyond, communities that offer programs that adjust to residents' needs will become increasingly popular.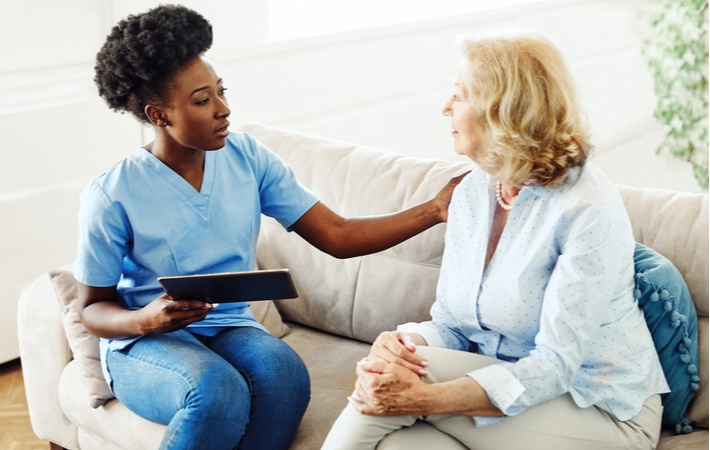 Prepping for The Silver Tsunami
It's coming, and it's almost here. The silver tsunami refers to the wave of baby boomers reaching retirement in the next few years. Senior living communities will need to prepare themselves for a massive influx of residents who will need various care services.
This means having the staff and equipment needed to serve these residents, having space to house residents comfortably, and having the plan to expand your community if needed.
Expanding Niche Communities
As social trends develop over the years, more and more people are reevaluating their identity and how important it is to them.
In the future, it'll be important for communities to niche down into specific groups like:
The LGBTQ+ community
Vegan communities
Ethnic and racial communities
Religious communities
Residents want to spend time with similar ideas and interests, so adopting regulations that help cater to these interests will become significantly more important in the future.
Adopting Technology
Tomorrow's seniors will be far more familiar with technology than ever before, making it easier for communities to provide unique services they might not have considered in the past.
Adopting technology into our community regulations will help residents experience a higher quality of life because of their ability to connect with friends and family over great distances. It will also provide opportunities for communities to expand their health services to include telehealth and other wellness-based apps.
However, with new technology comes new rules to follow. Communities will need to take greater care to protect their community's private information by investing in cybersecurity for both staff and residents. Communities must also adhere to their state's health regulations regarding patient confidentiality, ensuring their resident's information is kept between them and their practitioner.
Take Your Community to the Next Level
At Distinctive Living, we provide experiences our residents rave about. By staying at the forefront of our industry and always being willing to adapt to changes in regulations, we help our communities distinguish themselves as leaders in senior living.If this sounds like something you want your community to be a part of, please get in touch with us today. We're always ready to help.