Moving into 2022, many of us are focused on growth, wellness, and success. The same is true of anyone operating a senior living community. You want your community to stand out, a beacon of quality, care, and calm in the sea of the world's turmoil.
But how do you push your community from good to great? Regulations may not be the first thing that pops to mind, but solid, well-crafted policies provide the foundation for your brand to rise to distinction.
Whether your community focuses on independent living. assisted living, or memory support (or all 3) and wherever you are across the nation, the following suggestions can allow your community to develop a distinctive edge when it comes to great policies and superb care.
The Future of Senior Living
Senior living is a fast-growing sector, and it's only going to keep on expanding. Between aging baby boomers—a notoriously numerous generation—and increased life expectancies, senior living will continue to be a vibrant and needed piece of the American economy. In fact, it's estimated that by 2034 seniors will outnumber children for the first time in U.S. history.
The U.S. World & News Report is set to release senior living ratings in 2022, which provides potential customers with a new avenue to compare their options. Stay ahead of the curve— and the competition—by proactively implementing top-tier regulations that give your community a distinctive leg-up that may be missed with a more reactionary strategy.
New Regulations to Consider for 2022
Give your community a distinctive edge and keep the trust of your residents and their families by staying ahead of the curve when it comes to upgrades and regulations. Keep your community safe, secure, and welcoming.
Covid-19 Protocols
Even into the last days of 2021, senior living facilities have been working hard to manage the impact of the Covid-19 pandemic. Distinctive Living has implemented covid regulations that are a strong starting point, but it's critical to ensure you're in line with all state regulations.
Due to the ever-evolving nature of the pandemic, it can be challenging to keep up with changes as necessary. Follow information from your state's health department, the CDC and WHO, and the emergency temporary standards laid out by OSHA. Remember—when it comes to the safety of your staff and residents, taking extra steps is preferable to enacting measures too late.
Emergency Preparedness
Over the past several years, America has seen an increase in extreme weather events. Having plans in place for evacuation and shelter in place orders is more critical than ever. Solid plans to manage heatwaves (like the record-breaking heatwaves that hit the Pacific Northwest and the Western U.S. in June of 2021) can be especially vital for vulnerable populations, like seniors.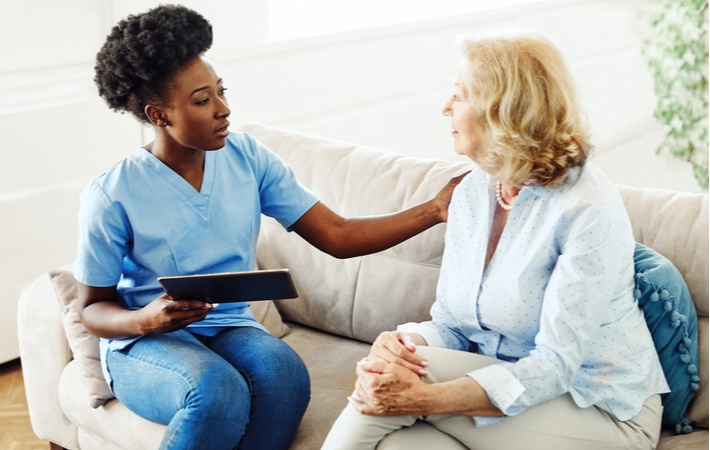 Staffing & Hiring
Hiring and retaining committed, enthusiastic staff is a distinctive trademark. Hiring one employee can cost over $4400, so having hiring protocols updated in place will help you find the right fit for your unique community.
To offer your residents the best care and top value, you want to attract the best candidates for each care position. The aging population in the United States means the demand for excellent senior living facilities is only going to grow—some say the industry, already valued at 83.2 billion, will grow over 5% by 2027 alone. Keeping talented, qualified people on your staff is imperative.
Making sure your regulations are up-to-date and progressive not only provides a fantastic environment for your residents but also gives a distinct advantage to your staff. Consider crafting regulations that provide your team members with:
A robust benefits package
Competitive, comfortable wages
Ongoing training
Opportunities for advancement within your company
There are also minimum staff-to-resident ratios in many states, so keeping the amount of staff employed well above those numbers in case of illness or emergency is necessary.
Education & Training
Everyone employed in your community should have training that makes high-quality and research-informed senior care the norm. To keep in line with state regulations, you may be required to hire a certain number of certified professionals, such as registered nurses. Ensure your hiring process includes verifying their credentials.
Consider providing robust training in the following areas to give your community a distinctive touch:
Handwashing & hygiene protocols
Communication skills, especially if they're working with memory support residents
Community safety & well-being
Signs of elder abuse & neglect
Dignity, privacy, & autonomy
A key aspect of any sound training system is that it's ongoing, with new information being added and best practices being updated regularly.
State Licensing
Possibly the most crucial thing to do when updating your community's regulations is to ensure you're in line with your state's licensing and regulation laws. The National Center for Assisted Living has compiled a list of PDFs that outline what each state requires from assisted living communities.
Give your community a distinctive touch—strive to go beyond meeting the basics outlined. Work to exceed expectations and offer outstanding safety and service.
Cleaning Protocols
There's not much the Covid-19 pandemic hasn't affected, but it's undoubtedly refocused our attention on an already vital aspect of any senior living facility—cleaning. Standard handwashing and disinfecting protocols are the cornerstones of any good hygiene and cleanliness policy, but we challenge you to go above and beyond.
Having clearly defined regulations around areas of cleanliness, including:
Scheduling: break down tasks into yearly, quarterly, monthly, weekly, daily, even hourly
Location: Living quarters, staff areas, bathrooms, food preparations areas, medical spaces, and recreation areas should all have their own protocols
Types of contaminants: spills, accidents, medical waste, and any other contaminant that needs special care needs to be addressed in your regulations
Distinctly Devoted to Your Success
The knowledge and skills required to handle every aspect of operating a top-of-the-line senior living community are expansive. You don't have to go it alone.
Distinctive Living is here to help with every aspect of senior living—from acquisition and investment to development and operation. We operate 24 communities of our own—and that number is only growing. Our team brings years of experience in the sector to the table, and we want to share our passion for excellence with you. Contact Distinctive Living and discover how we can help you grow through 2022 and beyond.