Managing a senior living community involves investing in your residents' daily lives. Your residents don't just want quality food—they want a memorable dining experience too.
Everyone has different opinions on what quality dining is to them, so it's important to know about the current trends in senior living. Some of the senior living dining trends that are anticipated to remain popular during 2024 include:
Healthy eating
Catering to individual dietary needs
Grab-and-go dining
Flexible dining areas
Seasonal menus and local ingredients
Healthy Eating is Essential for Seniors
Your diet is one of the most vital parts of your overall health and well-being. However, many older adults struggle to maintain nutrition—approximately 25% of senior Americans have a poor diet.
Nutrition changes for adults as they age, and the right foods are essential for healthy aging. While everyone has different needs and unique preferences, there are key elements to a good diet for seniors.
According to the National Institute on Aging, older adults should have a diet consisting of the following:
A wide variety of foods from different food groups
Low-sodium herbs and spices
Vitamin B12-rich foods
Easy-to-eat fruits and vegetables
Protein-rich foods to help maintain muscle, like seafood, dairy, and soy products
Low amounts of added sugar, saturated fats, and sodium
Frequent hydration
While residents in a senior living community have access to healthy, delicious food, your brand must stay knowledgeable about what seniors want in their dining experience today and in the future.
Senior Living Dining Trends
Personalized meals, grab-and-go food options, flexible eating spaces, and local ingredients are just a few of the current senior living dining trends that can help you provide nutritional meals your residents love.
Food for the Individual
Every resident in a senior living community can have different preferences and dietary restrictions, making it essential to provide food for individual needs.
Introducing more gluten-free and vegan foods to your daily meals and snacks can provide more options for your residents. Working with dieticians can help you determine the dining options you can provide to cater to the needs of each resident, providing them with food that can help them thrive.
Grab-&-Go Dining
Hunger can happen any time during the day, including between planned daily meals. Where can your residents indulge their hunger between meals with a snack? Consider adding a bistro or snack table to provide the freedom to grab nutritious food and take it on the go.
Flexible Dining Areas
Where you eat is just as important as what you eat—everyone has unique preferences, so it can benefit your community to have flexible dining areas.
Large dining rooms may be ideal for many residents, but others may want more intimate options. Moveable tables in your main dining room can let you customize the area for different events, and having other eating areas residents can move to can make daily meals a more comfortable experience.
Seasonal Menus & Local Ingredients
Supply chain issues and shifting grocery costs can make your community's regular menu harder to manage. Sourcing ingredients from local vendors can help you offset costs and find new menu items based on your region's local specialties.
Local ingredients are often fresh and healthy, making them exceptional for your community's dining. However, you can't expect the same culinary options as seasons shift. Another way to keep costs down and add variety to your dining experience is by utilizing seasonal menus with local ingredients that are abundant throughout different times of the year.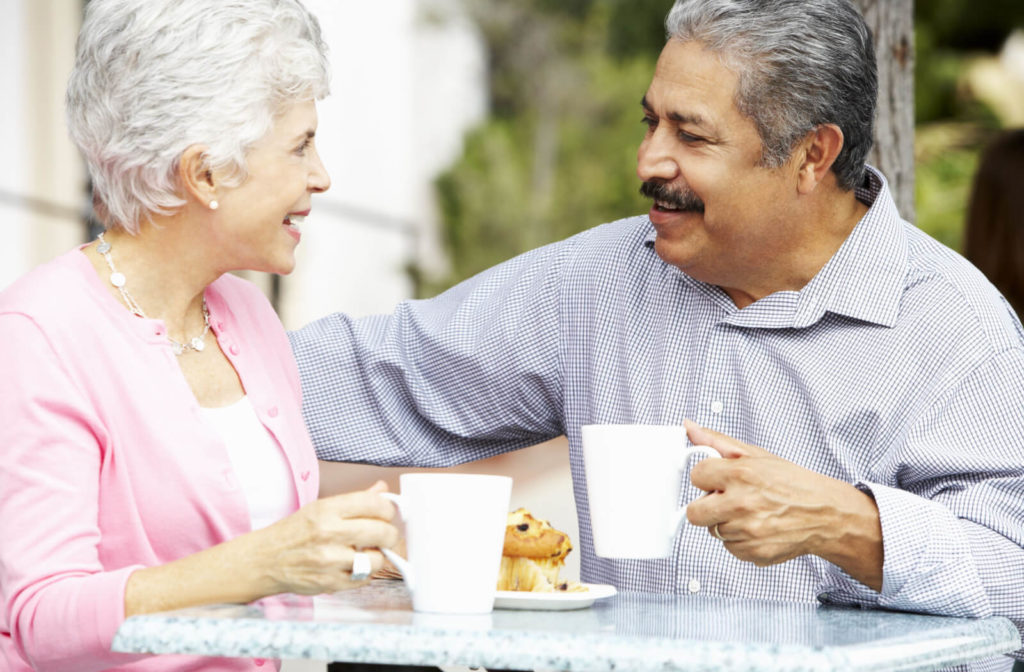 Experience the Distinctive Living Difference
We're here to help if you're looking for support with your community's dining experience. With expert chefs and partnerships with registered dieticians, we can help you get the most out of your menu while providing food that supports your residents' health.
We have the knowledge to help keep your residents healthy across lifestyles, including independent living, assisted living, and memory care. We can help you provide menu items beneficial for older adults living with dementia, helping protect them against some of the side effects of this disease, such as weight loss and appetite loss.
Features of Distinctive Living Dining include:
Professional culinary staff
Community kitchens
Private dining rooms
Open kitchen concept
Personalized meals
Memory support dining
Registered dietitian-approved meals
Social atmosphere
All-day dining options
See What Distinctive Living Can Do for You
You can help strengthen your community's dining experience with help from an expert. From professional staff to personalized meals, we help communities provide older adults with quality nutrition and outstanding dining experiences.
Contact Distinctive Living if you want to invest in your senior living dining experience.